EU Citizen's Rights Session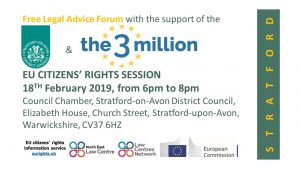 This free event is open to all EU nationals, their families, and their employers, and aims to provide information about EU citizens' rights in the UK during Brexit, and to answer participants' questions. The information will be delivered by a lawyer, made available by the European Commission Representation in the UK, through the Law Centres Network, to provide impartial, politically neutral information.
Monday 18th February 2019, from 6pm to 8pm in the Council Chamber of Stratford District Council.
The press release on the Stratford District Council website:
The eventbrite link to book places: