what3words – know your location in an emergency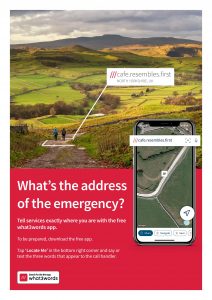 How what3words can help 999 #KnowExactlyWhere
what3words is now used by 80% emergency services in the UK and
has helped to locate nearly 4,000 incidents since it first started being
used – https://what3words.com/news/emergency/three-words-for-a-faster-emergency-response
Their system has given every 3m square in the world a unique
identifier made of 3 words – making the location of any emergency
or incident very easy to describe and share. For example
///tortoises.swarm.announce will take you to a precise location
on Ben Nevis where, in February 2020, a group of hikers were
rescued.
You can also use what3words to report incidents with organisations like National Grid, Network Rail and the Environmental Agency: https://what3words.com/report-incident-locations-efficiently.
Make sure you download the free app available on iOS or Android in advance to be prepared.